Let's celebrate the success of Callum Henderson, who, having starred as 'Danny' in Hurtwood's 'Grease' in 2015 has just taken up a leading role in 'Grease' in the West End'.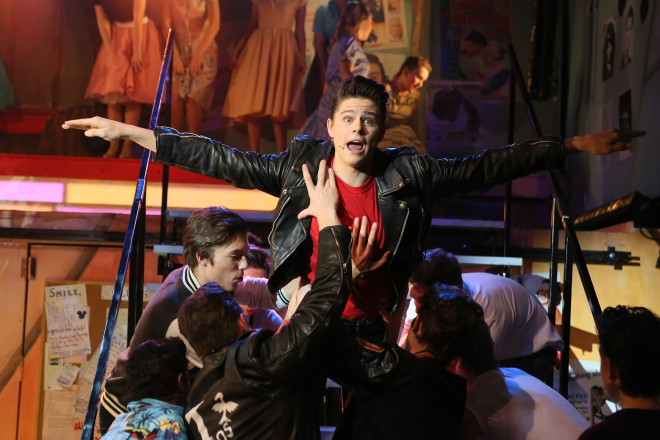 Callum, a Performing Arts Scholar at Hurtwood, remembers coming to watch the musical 'Chicago' before his interview and thinking "Wow this is spectacular" as he could hardly believe the quality of the production. Callum had been in 'Oliver' as a young lad and therefore could recognise quality when he saw it. As well as playing the lead in our musical 'Grease' Callum was 'Roger' in Hurtwood's 'Rent'. Indeed, he was rarely off stage during his time here, singing and dancing in every pop concert, Gig of Glory and dance showcase. Callum recalls how his grandparents were extremely pleased that Hurtwood livestreamed many of its shows as they couldn't travel far and he was in "everything he could have been in". Hurtwood supported Callum immensely to get into Drama School. From Andy helping him with his monologues, Lottie helping with his choreography and to Doug even driving him to his GSA audition. Callum adored his degree in Musical Theatre at GSA.
Callum was unlucky to leave Drama School in 2020 just as Covid 19 hit and closed all the theatres in the country. He moved straight up to London anyway as he wanted to be first on the scene when things were allowed again. This turned out to be a clever move as when things did eventually start to open up again and public performances in small capacities were permitted, he secured a role in 'Next Thing You Know' in an outside garden theatre in a pub in Vauxhall. This was followed by 'The Show Must Go On 'Concert at the Palace Theatre to raise money for actors affected by the pandemic. 
Callum then secured a major role in '9 to 5' UK tour which was a turning point for him. Visiting cities such as Liverpool, Edinburgh, Glasgow for a week at a time allowed him to explore parts of the country he would never have otherwise seen. After this he added 'From Here to Eternity' to his credits and he is currently playing the part of 'Roger' in 'Grease'.  Hurtwood is taking the students to watch the show as many know him from compèring our recent pop concert. Callum has also been back to advise students about the process of getting into Drama School and life as a working actor. Callum reminisces "Hurtwood was amazing. Being in the musicals 'Rent' and 'Grease' gave me a real taste of the West End long before I properly arrived there." 
Tell me more, Tell me more...