Discover the journey of industry-renowned musical composer, Alex Baranowski.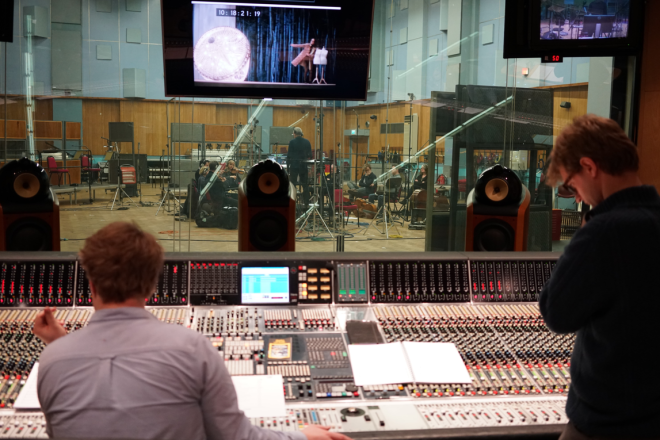 Alex Baranowski's journey began aged six when his grandfather bought him a half sized guitar and allowed him to play with the many mandolins and accordions lying around his house. At Hurtwood, Alex instantly found a new home in the theatre and Music Technology studios. He recalls being excited to attend the college where Hans Zimmer had been a student and he set about developing his talent working on our musicals and rock concerts. Having immersed himself in all things musical at Hurtwood, it was natural for him to go on to study Sound Technology at LIPA, the school that Paul McCartney had turned into a music college. 
Alex is now well known for his work on an extraordinary variety of mediums from television to film and ballet, but it is the theatre where it all began for him. Moving to London after LIPA, Alex was employed by composer Adrian Sutton to be an assistant at the National Theatre.  He has never looked back and theatre is now extremely prominent on Alex's CV. His work for the National Theatre includes 'Hamlet' directed by artistic director Sir Nicholas Hytner, and Danny Boyle's 'Frankenstein' which starred Benedict Cumberbatch and Johnny Lee Miller. Both productions were broadcast live to cinemas globally as part of NT Live. Alex has also worked on a myriad of other theatre projects including 'Othello' with Dominic West at the Sheffield Crucible and 'The Merchant of Venice' with Patrick Stewart at the Royal Shakespeare Company's Theatre in Stratford-upon-Avon. He has also worked on many productions with the Royal Court, Donmar, Hampstead and Bristol Old Vic.
Alex has similarly excelled in TV and Film, most notable in 2020's BAFTA nominated 'The Windermere Children', based on the experience of Polish child survivors of the Holocaust camp set up near Lake Windermere. This was a particularly moving experience for Alex as his grandparents had been taken to Siberia during the war and he used some of his grandfather's instruments while making the score. Alex has also worked on 'Coca-Cola: The Letter', the children's show 'Pop Paper City', and Channel 4's 'Made in England'. He even worked with fellow ex-Hurtwood student Georgina Hurcombe on 'I Won't Go'. During the pandemic Alex was busy with the pilot for BBC 1 hit comedy 'Staged' starring Michael Sheen and David Tennant, which has kept him busy ever since.  
But wait, there's even more! Arguably Alex's greatest achievement thus far was working on 'True Things' in 2021 which won Best Original Score at Les Arcs Film Festival. He was recently nominated for Breakthrough Composer of the Year from the International Film Music Critics Association. Furthermore, the music industry could not escape hearing about Alex's talent, and as a result he has collaborated with artists such as 'The xx', 'Jungle', and Peter Hook of 'Joy Division'. In his recent interview on 'The Music Room' podcast Alex recalled Hurtwood as "a really wonderful college where the headmaster was so supportive" and he has returned this support by coming back to Hurtwood and talking to our students on many occasions.
2023 looks set to be as busy as ever for Alex, with releases including BBC series 'Rain Dogs', Film 4 comedy 'A Gaza Weekend' and his own new EP on Apple Music and Spotify.