The students are currently showcasing their creativity and talent in Hurtwood's annual 'Festival of Theatre'.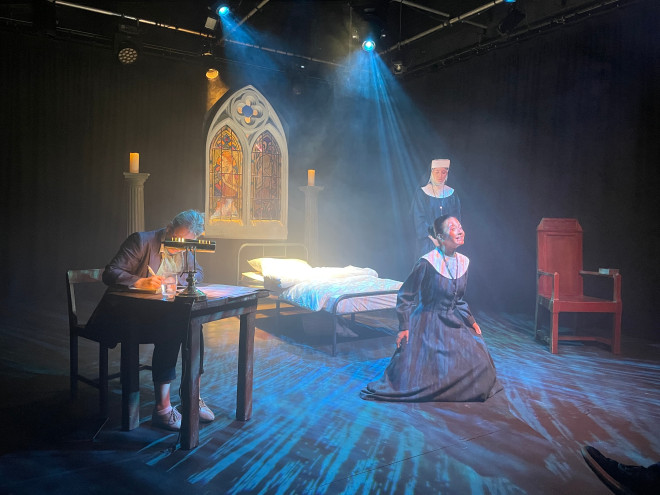 Twenty-four performances of twelve productions in three different performance spaces are setting Hurtwood alight once again. After the success of their own devised work last term, the students are taking on the challenge of interpreting, developing and realising a key extract from a published play for a live audience. 
Some students are demonstrating their exceptional performance skills, while others are being examined on costume design and set design. These productions are the result of months of hard work as students collaborate with their teachers and their peers to bring a myriad of different scripts to life.
Check out the full range of productions below:
'Agnes of God '
Directed by Doug Quinn & Clare Crossley
"She's special…she's gifted. She's blessed".
'Agnes of God' by John Pielmeier tells the story of a young novice nun who gives birth and insists the child is the result of a virgin conception. A court Psychiatrist and the Mother Superior of the convent clash during the resulting investigation.
CAST:
Delia Dong
Arielle Levak
Isabella Pearce-Molland
'Mermaid'
Directed by Adam Rood & Lee Johnson
Should we all have the right to speak? This modern adaptation of the Hans Christian Anderson timeless classic explores love, destiny, betrayal and hope through the mind of a young person who struggles with her own inner demons.
Lighting Design by Kitt O'Neill
CAST:
Alfie Brereton
Emily Brigstocke
Kiki Burke
Flora Easton
Madi Higgins
Rosie McGirr
'Agnes of God – Act 2'
Directed by Natalie Wallis & Alison Winter
Agnes, a 21 year old nun, claims an immaculate conception and no memory of the birth of her baby. Can Doctor Livingstone discover the truth behind that fateful night? And does Mother Miriam know more than she is letting on?
CAST:
Jonti Filpi
Gracie Lupton
Penny Ogden
'Yerma'
Directed by Clare Crossley, Natalie Wallis & Stephanie Glide
London, the present day. A woman is driven to the edge by her desperate need to have a child.
CAST:
Susie Bence
Sophie Clapton
Millie Newman
Ella Scott
'A Private Ear'
Directed by Lee Johnson & Alison Winter
Bob is a born loser: plain and shy he is no match for Ted whose facile charm impresses "the birds." Bob thinks he has found a different kind of girl and invites her to dinner.
CAST:
Rafferty McKenzie-Donovan
Saskia Pattinson
Felix Wood
'Top Girls'
Directed by Alison Winter & Natalie Wallis
Caryl Churchill's feminist drama originally written in the 1980s has echoes today as working women struggle to balance work and family. The play questions if it is ever really possible to succeed in a world created by men.
CAST:
Lola Corcoran
Lara Middleton
Vita Pestman Mackintosh
Grace Priestly
Kate Stobo
Immie White
'Blue Remembered Hills'
Directed by Clare Crossley, Natalie Wallis & Stephanie Glide
West Country. The long summer holiday, 1943. Five 7-year-old boys and a box of matches. What can possibly go wrong?
CAST:
Greyson Cadman
Kitty Lloyd
Iside Montaldo
Bea Roberts
Caitlin Shapcott
'Orphans'
Directed by Ezra Hjalmarsson & Stephen Smith
Helen and Danny are having a candlelit dinner to celebrate her pregnancy, when Liam turns up covered in blood. What did happen to the 'poor lad he found lying on the ground'?
Set Design by Corn Baum
Costume Design by Cat Donkin
CAST:
Phoebe Little
Adam O'Connor
Monty Maclaren-Clarke
'London Road'
Directed by Doug Quinn & Clare Crossley
'London Road' is a verbatim text by Alecky Blythe. Everything you hear comes from the mouths of the residence of London Road. This extraordinary play explores the ordinary lives and reactions that the local people felt when the murders of several prostitutes were discovered on their doorstep.
CAST:
Arianna Abdu'Allah-Duffus
Hugo Boothman
Bea Hemsley
Sophie Superfine
Darcy Ward
'House of Bernarda Alba'
Directed by Ezra Hjalmarsson & Stephen Smith
Under the iron grip of their mother, Bernarda Alba's daughters are all drawn to the young Pep el Romano, and 'Nobody can stop what's going to happen now'.
Lighting Design by Sienna Friend
CAST:
Zoe Case
Liv Isaacs
Hana de Marigny Lagesse
Abby Sparrow
'After Miss Julie'
Directed by Lee Johnson & Alison Winter
July 1945. A country house in England. Celebrations for the British Labour Party's election victory are in full swing. The lady of the house, Miss Julie, descends into the servants' kitchen to seek out John, her father's chauffer. A passionate night tests the limits of their new freedom.
CAST:
Cole Flaherty
Lily Gossage
Hannah Orman
'Immaculate'
Directed by Stephen Smith and Ezra Hjalmarsson
You're young, free and single and haven't had sex for the last eleven and a half months, then one morning you wake up pregnant and to make matters worse the Angel Gabriel is on your doorstep claiming parentage...
Costume Design by Alice Silver
CAST:
George Acworth
Roualeyn Alford
Meadow Arminger
Alex Besedovska
Hayley Dodd
Tom Goss
Katie Lawton
Keep an eye out on socials for some images and footage!