Let's take a look at the illustrious career of British TV and film star, Nikki Amuka-Bird.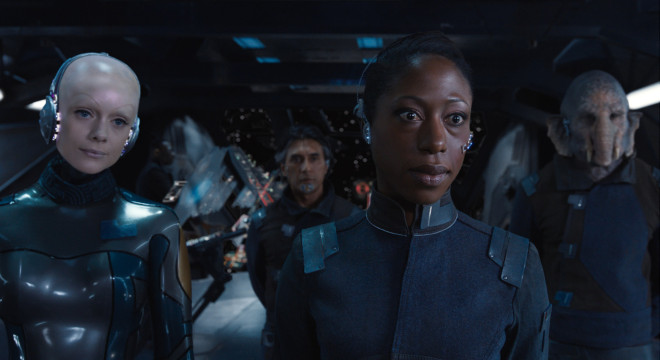 Born in Nigeria, she spent her childhood in Antigua and England before coming to Hurtwood to study English Literature, Theatre and Business Studies A Levels. An avid dancer she regularly delighted audiences by performing in our musicals and a myriad of other productions. Upon leaving Hurtwood in 1993, her ambitions of being a dancer frustrated by a back injury, she honed her performance skills studying Drama at LAMDA and began her career with the Royal Shakespeare Company no less. Over the years she has built up an impressive theatrical portfolio working at The Royal Court, The National Theatre and Bristol Old Vic amongst others. Nikki gained particular critical acclaim for 'Welcome to Thebes' at the National and for her Viola in 'Twelfth Night' at the Bristol Old Vic for which she earned an Ian Charleson nomination.
Alongside the theatre Nikki made her television acting debut in the BBC soap opera 'Holby City' in 1999, where she would play a variety of characters during her six-year spell with the show. Indeed, Nikki soon became a soap opera regular, appearing in 'The Bill', 'Casualty' and 'Doctors'. Her breakthrough came in 2016 when she starred in the TV movie 'NW' based on Zadie Smith's novel about two friends from a northwest London housing estate. Her TV credits are breathtakingly extensive including 'Doctor Who', 'Torchwood', 'Silent Witness', 'Inside No. 9', and 'Death in Paradise'. However, she is perhaps most famous for her memorable performance as the crime busting DCI Erin Gray in the rating-pulling goliath 'Luther' and for her portrayal of Rav Mulcair in Armando Iannucci's sci-fi comedy 'Avenue 5'.
Nikki is also no stranger to the big screen and she has appeared alongside some of Hollywood's greatest actors. She shares the screen with Channing Tatum and Eddie Redmayne in 'Jupiter Ascending', with Rosamund Pike and Jamie Dornan in 'A Private War' and Mark Rylance in 'The Outfit' to name but a few. She can currently be seen starring in M Night Shyamalan's new apocalyptic psychological thriller 'Knock at the Cabin'. When asked if she has a preference for television, theatre or film she answers "I do love to be on set and on different locations. There's a thrill about the cast and crew all mucking in together in the middle of nowhere for a night shoot. With the theatre you get a different kind of buzz, you have privacy in rehearsal to develop the character and then the adrenaline of being in front of a live audience. To be honest I love all of it. I am still pinching myself that I get to do this job that I love so much".
Nikki does have some advice for her 18-year-old self just about to leave Hurtwood. "Trust your instincts more" she says. "Back then I was looking for people to affirm me but as it turns out, some failures can't be avoided, so you just have to go for it." There always seems to be another exciting project for Nikki and we look forward to watching her in her current one 'Jericho Ridge' which is due to be released later this year.