This week, we look at Theatre Voice Coach, Composer, Harpist, and Shakespeare enthusiast Anna Boulic known at Hurtwood as Anna Edgerton.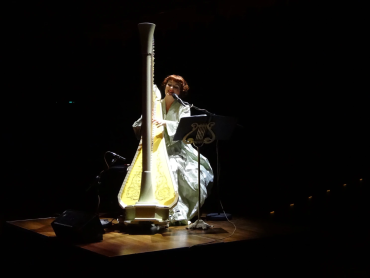 Anna earned a scholarship to Hurtwood in 1993 and travelled across the globe from Australia to join us. Anna's strongest memory of Hurtwood was auditioning for the musical Cyrano, as her rendition of 'Don't Cry for me Argentina', was met with rapturous applause from students and teachers alike. In Anna's words, 'I had found my people' and the place that 'set me up for life' which 'changed everything for me'.
At Hurtwood, Anna discovered a passion for Shakespeare which would remain with her to this day and would play a major part in her career. After leaving Hurtwood, she attained a Performing Arts Degree from the University of Tasmania, where in her first lesson with a theatre voice coach she discovered what she wanted to be.  Having spent the next five years acting and learning the harp, she finally gained a place at the National Institute of the Dramatic Arts (NIDA – Australia's RADA) to train in her chosen profession. Anna excelled as a voice coach for nearly a decade, teaching at the conservatoire in Victoria and even specialising in her lifelong passion of Shakespeare.
Marrying a Frenchman, led to a swift change in direction and Anna settled in France, with her growing family. She now teaches English through theatre at the French Chamber of Commerce. Anna remains a passionate harpist, regularly working with musicians and writing her own material. She has recorded an album of 'dirty blues harp 'alongside her teaching career.