The half-term ended in style as each House was treated to some exciting activities.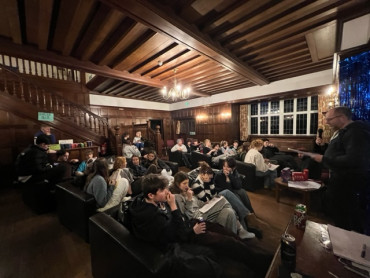 Peaslake House started their trip with some energetic exercise at trampoline park 'Airhop', the perfect way to burn off any revision stresses. But that wasn't all, as next up was some ice skating at Guildford Spectrum. Elegance or bambi on ice? A mix of both was on display for sure.
The Lodge were under no pressure to break free as they checked in at G Live Guildford to see the UK's biggest Queen tribute band, 'Majesty'; as part of 'The Break Free Tour!'.
Beatrice Webb House had a cosy night in complete with pizza and pub quiz style festivities with Quizmaster, James Baker. Whilst the pizza continued over at Ewhurst Place as they settled down for a movie night.
Meanwhile Day House and Hurtwood House were taken for some friendly (most of the time) competition at Crawley Leisure Centre, taking part in a few rounds of Bowling and Mini-Golf.
Cornhill Manor also had their bowling shoes on as they too took centre stage to try their luck at a few strikes. Everyone's a winner!
Hurtwood looks forward to welcoming the students back for another jam packed term next week.