Congratulations to Hurtwood Alumnus Grig Richters on having his World Asteroid day recognised by the United Nations. Great Work!
for more info please visit his website http://asteroidday.org/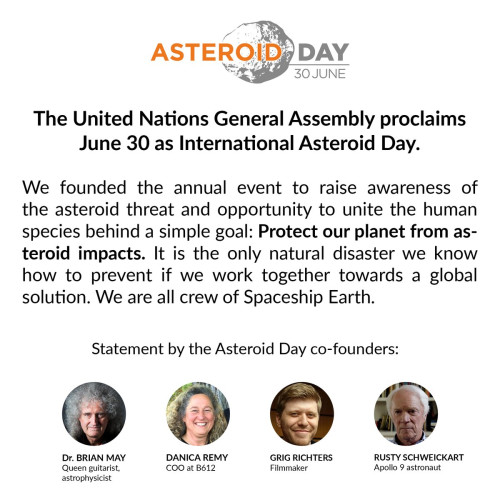 Grigorij Richters, director, producer and activist, began his career in front of the camera as a child model in his home country of Germany. By the age of six he was already obsessed with cameras and began making his own films on a JVC Hi-8 camcorder. Grigorij made a documentary on Franz Kafka that he sold to a German university and directed a 30 minute short film called Dean's Life before the age of 16. He completed his A-Levels at film college Hurtwood House in the UK and went on to study under famed Czech-American director Milos Forman at FAMU Film School in Prague. Following a stint in New York City working as a freelance social media consultant for MTV, Grigorij founded his film company Films United. In 2010 he moved back to the UK and was appointed the Kevin Spacey Filmmaker in Residence at the Old Vic Theatre in London. This provided the platform for the young filmmaker to conceive of and develop his first full-length feature film titled 51 degrees North. Through meticulous rehearsal and liberating improvisation, the character of protagonist Damon emerged; a young filmmaker struggling with professional and personal challenges who discovers that an asteroid threatens the imminent destruction of the world. Damon became an autobiographical avatar that could project the alarm and urgency Richters himself had experienced. To underscore the personal impact of the story, an omnipresent handheld camera and innovative use of CCTV footage were used to minutely observe the unravelling of Damon and, subsequently, society. Dr Brian May, astrophysicist and lead guitarist for legendary rock band Queen, was captivated by the subject matter and agreed to provide the soundtrack for the film. Once the film was finished, May suggested that Richters screen the film at Starmus Festival in Tenerife, an annual astronomy related event combining science, art and music. 51 Degrees North was met with acclaim and inspired Richters, May and some of the most notable names in science to propose the idea of a day dedicated to raising awareness of the asteroid threat around the world. The proposal for Asteroid Day quickly gained momentum, attracting widespread media interest and garnering the signatures and support of luminaries such as scientists Richard Dawkins, Kip Thorne and Bill Nye; musicians May and Peter Gabriel; and astronauts Chris Hadfield and Anousheh Ansari, among many others. Asteroid Day will be held on June 30, 2015, the anniversary of the largest asteroid collision with Earth in recent history, the 1908 Siberian Tunguska impact. What began as a scientifically-minded declaration has captured the popular imagination and is ramping up to be a truly global movement aimed at no less than saving the world from assured destruction. And it all started with an idea for a film.